La premiazione del World Press Photo Contest è un evento molto atteso della prima parte dell'anno. Il concorso premia i migliori scatti giornalistici in diverse categorie e tra essi sceglie la migliore fotografia dell'anno. Scorrere la galleria fotografica dei premiati permette, come spesso accade, di avere un colpo d'occhio su tutti gli eventi più significativi dell'anno appena passato.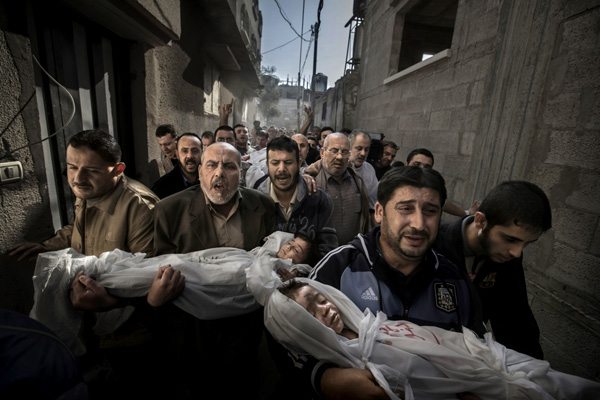 Quest'anno è stata eletta World Press Photo of the Year 2012 la foto del fotografo Paul Hansen del quotidiano svedese Dagens Nyheter. La foto ritrae un gruppo di uomini che trasporta i corpi di due bambini per le strade di Gaza verso la moschea per il rito funebre. I fratellini, di cui uno di due anni, vengono portati in corteo assieme al padre, il cui feretro è visibile leggermente più indietro. I tre hanno trovato la morte durante uno dei raid missilistici di Israele: la foto è stata scattata il 20 novembre 2012 a Gaza.
Assieme a Paul Hansen sono stati premiati altri 54 fotografi nelle diverse categorie, nella galleria incorporata qui sotto trovate una carrellata dei vincitori: nutrita è la presenza italiana.
WORLD PRESS PHOTO OF THE YEAR 2012
Paul Hansen, Sweden, Dagens Nyheter
Gaza Burial, Gaza City, Palestinian Territories, 20 November
1          Paul Hansen, Sweden, Dagens Nyheter
Gaza Burial, Gaza City, Palestinian Territories, 20 November
2          Emin Özmen, Turkey, Sabah
Interrogation, Aleppo, Syria, 31 July
3          Adel Hana, Palestinian Territories, The Associated Press
Collaborator, Gaza City, Palestinian Territories, 20 November
SPOT NEWS STORIES
1          Bernat Armangue, Spain, The Associated Press
Gaza, November
2          Fabio Bucciarelli, Italy, Agence France-Presse
Battle to Death, Aleppo, Syria, October/December
3        Javier Manzano, USA, Agence France-Presse / Getty Images
for The New York Times
            Siege of Aleppo, Syria
GENERAL NEWS SINGLES
1          Rodrigo Abd, Argentina, The Associated Press
Aida, Idlib, Syria, 10 March
2          Sebastiano Tomada, USA, Sipa Press USA
Wounded Baby in Hospital, Aleppo, Syria, 3 October
3          Dominic Nahr, Switzerland, Magnum Photos for Time magazine
Dead Soldier in Oil Pool, Heglig, South Sudan/Sudan Border, 17 April
Honorable mention
Ammar Awad, Jordan, Reuters
Israeli Border Police Pepper Spray Palestinian Protester, Jerusalem, 30 March
GENERAL NEWS STORIES
1          Alessio Romenzi, Italy, for Time magazine
            Syria Under Siege
2          Paolo Pellegrin, Italy, Magnum Photos for Zeit Magazin
            Postcards from America: The Crescent, Rochester, NY, USA
3          Daniel Berehulak, Australia, Getty Images
Japan After the Wave
SPORTS ACTION SINGLES
1          Wei Seng Chen, Malaysia
            Pacu Jawi Bull Race, Indonesia
2          Yongzhi Chu, China
            Warm Up at Sports School, China
3          Wei Zheng, China
Synchronized Swimmer at 2012 Olympic Games, London, UK
SPORTS ACTION STORIES
1          Roman Vondrous, Czech Republic, Czech Press Agency
Cross Country Steeplechase, Czech Republic
2          Sergei Ilnitsky, Russia, European Pressphoto Agency
The Golden Touch - Fencing at the Olympics
3          Chris McGrath, Australia, Getty Images
London 2012 – An Overview
SPORTS FEATURE STORIES
1          Jan Grarup, Denmark, Laif
            Women's Basketball, Mogadishu, Somalia
2          Denis Rouvre, France
Sumo Wrestlers, Japan
3          Vittore Buzzi, Italy
Lone Chaw Lethwei Gym, Myanmar
CONTEMPORARY ISSUES SINGLES
1          Micah Albert, USA, Redux Images
            Woman Reading at Dandora Municipal Dump, Nairobi, Kenya
2          Esteban Felix, Peru, The Associated Press
Pool Hall Attack, San Pedro Sula, Honduras
3          Emilio Morenatti, Spain, The Associated Press
Shop Stormed by Demonstrators, Barcelona, Spain, 29 March
Honorable mention
Felipe Dana, Brazil, The Associated Press
Natalia, 15-year-old Crack User, Rio de Janeiro, Brazil
CONTEMPORARY ISSUES STORIES
1          Maika Elan, Vietnam, Most
            The Pink Choice, Vietnam
2          Majid Saeedi, Iran, Getty Images
Life in War, Afghanistan
3          Aaron Huey, USA, for National Geographic magazine
In the Shadow of Wounded Knee, USA
Honorable mention
Altaf Qadri, India, The Associated Press
School for Less Fortunate, New Delhi, India
DAILY LIFE SINGLES
1          Daniel Rodrigues, Portugal
Youth Playing Football, Dulombi, Guinea-Bissau
2          Søren Bidstrup, Denmark, Berlingske
            Early Morning on Summer Holiday, Italy
3          Jacob Ehrbahn, Denmark, for Politiken
            John McLean at Dining Hall,Youngstown, Ohio, USA
DAILY LIFE STORIES
1          Fausto Podavini, Italy
Mirella
2          Paolo Patrizi, Italy
Migrant Sex Workers, Italy
3          Tomás Munita, Chile, for The New York Times
El Salvador Gangs
Honorable mention
Frederik Buyckx, Belgium, for De Standaard
Pacified Favela
PEOPLE – OBSERVED PORTRAITS SINGLES
1          Nemanja Pancic, Serbia, Kurir
Milan, Belgrade, Serbia
2          Marie Hald, Denmark
Bonnie, Soroe, Denmark
3          Ilona Szwarc, Poland, Redux Pictures
Kayla, Boston, USA
PEOPLE – OBSERVED PORTRAITS STORIES
1          Ebrahim Noroozi, Iran
Victims of Forced Love
2          Daniel Ochoa de Olza, Spain, The Associated Press
Bullfighter's Comeback
3          Ananda van der Pluijm, The Netherlands
Martin
PEOPLE – STAGED PORTRAITS SINGLES
1          Nadav Kander, UK, for The New York Times magazine
            Daniel Kaluuya
2          Stefen Chow, Malaysia, for Smithsonian magazine
            Ai Weiwei
3          Anna Bedyńska, Poland, Agora
            Zuzia
PEOPLE – STAGED PORTRAITS STORIES
1          Stephan Vanfleteren, Belgium, Panos for Mercy Ships / De Standaard
People of Mercy, Guinea
2          Ebrahim Noroozi, Iran
            Mournful, Iran
3          Fu Yongjun, China, City Express
Miss My Parents So Much, China
1          Christian Ziegler, Germany
Southern Cassowary, Australia
2          Ali Lutfi, Indonesia, for The Jakarta Globe
Circus at the Crossroads, Indonesia
3          Randall Benton, USA, The Sacramento Bee
Caribbean Trumpet Fish, Bonaire
NATURE STORIES
1          Paul Nicklen, Canada, National Geographic magazine
Emperor Penguins, Ross Sea
2          Xiaoqun Zheng, China, Wenzhou Daily
The Cage, China
3          Thomas P. Peschak, Germany/South Africa
            Whale Sharks, Indian Ocean